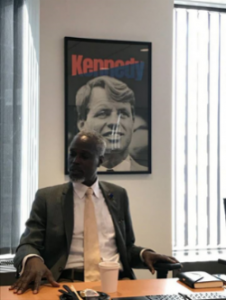 Executive Director of the Alliance Institute (AI), Stephen Bradberry and members of the American Sustainable Business Council (ASBC), including MaryAnne Howland, chair of The Diversity and Inclusion Working Group and Michael Green, chair of Environment/Energy Working Group hosted a breakfast with leaders in the field of social investment and sustainable business. The meeting was convened at the offices of Robert F. Kennedy Human Rights on July 19, following the 2017 High Level Panel on the UN Sustainable Development Goals. Cheryl Smith of Trillium Asset Management opened the discussion and Steve Bradberry outlined the Gulf Coast community priorities around financial innovation.
The partnership between civil society, business, and government is essential to reaching AI's goals of inclusion, resilience, sustainability. Along with members of the Global Business Alliance for 2030, Stephen addressed the need for liquidity to build sustainable Gulf Coast economies as the region faces the challenges of adaptation to sea level rise.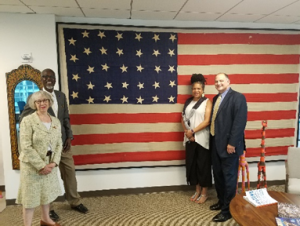 Pictured at left is the "Lincoln Flag" that graced our meeting at its permanent home in the RFK Human Rights offices. Abraham Lincoln was the only President to serve under this symbol of our young nation with 34 states/stars. As we move forward, we take courage from the wise leadership of Abraham Lincoln, and the optimistic fortitude of Robert Kennedy.
*(from left to right w/Lincoln Flag: Iva Kaufman of ASBC, Stephen Bradberry of Alliance Institute, MaryAnne Howland of ASBC, and Joshua Karlin of Major Gifts Now).