MISSION
Alliance Institute's mission is to provide individuals, families, and organizations with the skills and information necessary for them to fully participate in the decision making processes that affect them in their homes, neighborhoods and communities.
CAPACITY
Alliance Institute is a tax-exempt nonprofit organization founded in January 2010 that brings together an experienced team of trainers, public service specialists, development specialists, and grassroots leaders to advocate for social and economic justice.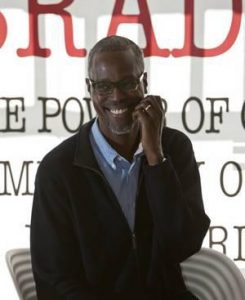 STEPHEN BRADBERRY Executive Director
Chicago native Stephen Bradberry is a veteran community organizer who has worked with low- and moderate-income families and individuals for 18 years. His work has centered on organizing public interest campaigns to actively involve low-income families in addressing the social problems they face everyday. He has led campaigns promoting a living wage, preventing predatory lending, lead poisoning prevention in children, and increasing voter participation.
A graduate of Dillard University, Mr. Bradberry was a public school instructor working with children from early childhood through high school. Mr. Bradberry connected with the Umoja Committee, which produces the Celebration of the African American Child each spring at Congo Square. Working as a community organizer, Mr. Bradberry led efforts to institute living wage legislation, orchestrated a successful campaign to win prohibition of dry-sanding of lead-based paint in New Orleans and blood screening for at-risk children under six, and worked tirelessly on behalf of New Orleans' displaced poor in the wake of Hurricanes Katrina and Rita. Mr. Bradberry has also worked to coordinate national campaigns to improve the quality of life and enfranchise low- and moderate-income families and individuals across the United States.
In 2005, Mrs. Ethel Kennedy and Senator Edward Kennedy presented Bradberry with the Robert F. Kennedy Human Rights Award for his efforts on behalf of the poor. At the event, then-Senator Barack Obama congratulated Bradberry for his work to defend the rights of the poor in New Orleans, saying, "You deserve this day in the sun," and noting that Bradberry's social activism plays to Robert Kennedy's vision of a better world: "Somewhere there's always been people like Steve Bradberry who believe that this isn't the way it's supposed to be. People who believe that while evil and suffering will always exist, this is a country that has been fueled by small miracles and boundless dreams."
Mr. Bradberry has been the recipient of numerous other awards including:
Robert F. Kennedy Human Rights Award – RFK Center, 2005
Trailblazer Award – Data News Weekly, 2008
Distinguished Alumnus Award – Dillard University, 2007
Rising Tide Award – Maine People's Alliance, 2006
Unexpected Heroes Award – Court TV, 2005
Partnership Award – IRS, Treasury Dept., 2005
40 Under 40 – Gambit Weekly, 2003
BOARD OF DIRECTORS
MARY ALEXANDER (President) – Vice President at Perez architectural and engineering firm, over 15 years of executive management experience.
APRIL BRUMFIELD, ESQ. – Deputy Louisiana Director and Staff Attorney at One Voice working on statewide advocacy in Louisiana and Mississippi.
DR. DENNIS DILLON – Executive Director of Boys Town of Louisiana, board member of Louisiana CASA.
FERNAND JACKSON – Retired steelworker active since Hurricane Katrina working with New Orleans residents around rebuilding issues.
DR. CLAIRE NORRIS (Secretary) – Assistant Professor at Xavier University School of Sociology.
DOUG PENNER, CPA, CMA (Treasurer) – Chief Financial Officer of Habitat for Humanity New Orleans.
ASHLEY SHELTON – Director of One Voice working on statewide advocacy in Louisiana and Mississippi, active in philanthropic circles across the south.