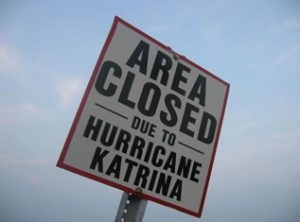 Monday, August 24, 2015 marks the beginning of a week of activities in commemoration of the devastation that struck the Gulf Coast of the United States in the form of Hurricane Katrina. New Orleans, the magnificent jewel of the coast, was and, is the epicenter of attention by the media (and by default the American public) and will be the focus of much of the commemoration. There will be more events and panels than I care to know about. In fact, almost to the person, folks who I've been in conversation with regarding the upcoming events would much rather be elsewhere. Hell, I tried to get out of the country, but to no avail.
New Orleans is changed because of Katrina, and not all in a good way. And those not in a good ways are really kinda bad. And in an "I told you so" kind of way. You see, following the hurricane, I was often asked in interviews if New Orleans would be rebuilt. And my answer was always, "it's not a matter of if New Orleans will be rebuilt, New Orleans will be rebuilt. The question is, who will get to enjoy the new New Orleans?" The question was not just the musings of an African American Community Organizer, or a Pro-Black Conspiracy Theorist.
On September 8, 2005, the Wall Street Journal ran a story Old-Line Families Escape Worst of Flood And Plot the Future by Christopher Cooper (found here as WSJ doesn't search further back than 2011) which stated:
The power elite of New Orleans — whether they are still in the city or have moved temporarily to enclaves such as Destin, Fla., and Vail, Colo. — insist the remade city won't simply restore the old order. New Orleans before the flood was burdened by a teeming underclass, substandard schools and a high crime rate. The city has few corporate headquarters.

The new city must be something very different, Mr. [James] Reiss says, with better services and fewer poor people. "Those who want to see this city rebuilt want to see it done in a completely different way: demographically, geographically and politically," he says. "I'm not just speaking for myself here. The way we've been living is not going to happen again, or we're out."
Then on September 9 of the same year, we find The Washington Post in an article titled Some GOP Legislators Hit Jarring Notes in Addressing Katrina by Charles Babington quoting a September 8 Wall Street Journal piece:
The latest elected official to step into the swamp was Rep. Richard H. Baker, a 10-term Republican from Baton Rouge. The Wall Street Journal reported yesterday that he was overheard telling lobbyists: "We finally cleaned up public housing in New Orleans. We couldn't do it, but God did."
And then one (1) month following the disaster, September 29, 2005 we have from the Houston Chronicle article titled "HUD chief doubts New Orleans will be as black" by LORI RODRIGUEZ and ZEKE MINAYA, quoting HUD Secretary Alphonso Jackson:
"Whether we like it or not, New Orleans is not going to be 500,000 people for a long time," he said. "New Orleans is not going to be as black as it was for a long time, if ever again."
The article also notes:
Alphonso Jackson predicted New Orleans will slowly draw back as many as 375,000 people, but that only 35 to 40 percent of the post-Katrina population would be black.
And
Prior to Katrina, the population was 67 percent black and 28 percent white.
So yeah, no conspiracy and in plain English, in the mainstream media, we have persons of power at the Local, State, and Federal levels making statements regarding who would and who would not get to enjoy the new New Orleans; the New Orleans of today.
I keep the above remarks foremost in my thoughts, statements, and work regarding the recovery efforts from hurricane Katrina, because for me, they highlight the overarching goal of those who wish to deny the dignity and even the existence of low- and moderate-income families, particularly those of color.
And should anyone doubt the commitment to carry out the intent of the above quotes, please read this blog post by Bill Quigley, a longtime friend of the social justice movement in New Orleans, a law professor and Director of the Stuart H. Smith Law Clinic and Center for Social Justice and the Gillis Long Poverty Law Center at Loyola University New Orleans: "New Orleans Katrina Pain Index at Ten: Who Was Left Behind."
Here are a few gems:
New Orleans is now 59 percent African American, down from 66.7 percent in 2000; 31 percent white, up from 26 percent in 2000; and 5.5 percent Hispanic, up from 3 percent in 2000.
There are now 3221 fewer low income public housing apartments in New Orleans than when Katrina hit. In 2005 there were 5,146 low income public housing apartments in New Orleans, plus thousands of other public housing apartments scheduled for renewal or maintenance, nearly 100% African American.
Over 7,500 public school teachers and paraprofessionals, mostly African American, were fired after Katrina when Louisiana took over the New Orleans public school system. The US Supreme Court refused to hear their appeal in May 2015.
So please keep in mind as we enter into and traverse Katrina-Palooza over the next few weeks, that while there will be many many stories highlighting the recovery and how much better things are, that there are an awful lot of us that find in the commemoration, a lot more to mourn than to celebrate.